Trestles Ti:Sapphire laser with AOTF tuning
New Trestles-AOTF model use TeO2 AOTF with pass-band resolution varied from 0.4 nm for 750 nm till 0.6 nm for 850 nm. The RF tuning range is 38 - 60 MHz , max drive power is 0.5 W. The AOTF is with diffracted beam pointing stability, so there is no need to use additional prism in the cavity. No any additional optics in the cavity is required.
Trestles-AOTF system specifications: max tuning range ~ 150nm, max sweeping frequency ~ 1600 Hz , the pump threshold 1.45 W, slope efficiency 5.2%. Generation appears from ~ 350 Hz .
The max tuning range was 150 nm. The laser output depends from pump power, sweeping frequency, tuning range, acoustic waves power, waveform of the drive signal. The graph 1 below shows dependence of the output power from sweeping frequency for tuning range 100 nm and pump powers 3, 4 and 5 W . By decreasing tuning range it is possible to reach higher sweeping frequencies. Graph 2 shows theoretical calculations for this.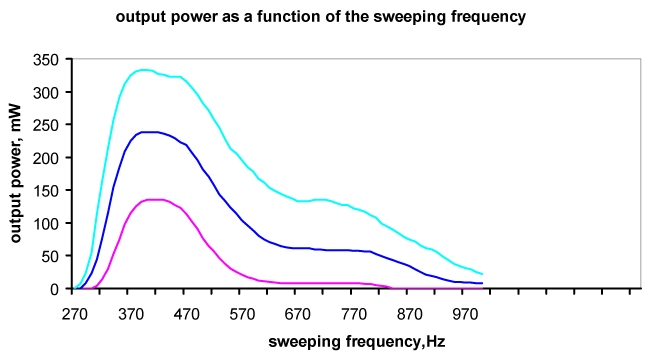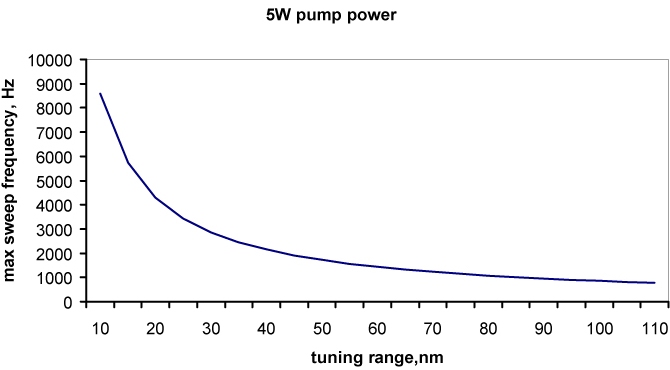 Max tuning range was achieved in the middle of scanning speeds range, near 900 Hz.
To receive additional information about AOTF option please email to sales@dmphotonics.com
Related products:
Trestles Ti:Sapphire lasers
Trestles Finesse Ti:Sapphire Lasers
Teahupoo Amplified Ti:Sapphire Laser